Behold! My new kitchen in all her glory! (Ignore the one missing cabinet pull.) I am so in love with this space. It is the one room in the house that is totally done, in order, and doesn't stress me out when I walk into it.
I promised y'all some details about the project, including numbers. I'm a woman of my word, let's dive in.
Appliances
I was pretty choosy when it came to my appliances. I had a few requirements right off the bat. For starters, since the kitchen small (approximately 11 ft x 10 ft), I knew I wanted an over the range microwave. Second, I wanted an electric, glasstop stove. I know a lot of people prefer gas, but I like how easy to clean glasstops are. I don't cook a whole lot anyway, so I don't need the precise heat control proponents of gas stoves advocate for. Finally, I wanted a counter-depth refrigerator.
The fridge ended up being the hardest thing to choose. Most counter-depth fridges have the freezer on the bottom, which is a style I don't like. I looked long and hard and finally settled on this
Whirlpool refrigerator
from HH Gregg. A surprise favorite - the ice cube shape! They're little pyramids! Once I narrowed down the fridge I wanted, the rest was pretty easy. I went with the
stove with the extra big window
and the storage drawer instead of the warming tray.
There wasn't a dishwasher in the house when I bought it (and technically, there still isn't - I have to get the plumber back out to hook it up), and for resale purposes, that was one of the major parts of the kitchen design. It is surprisingly difficult to fit a full sized dishwasher into a U-shaped 11 ft x 10ft kitchen. My kitchen designer worked so hard to make that happen, and she managed to make it work! We had to cheat the drawers next to the stove a fraction of an inch over to accommodate the handle of the dishwasher, but it all worked out in the end! So if you go for
this model
, be aware that the handle does stick out a fair amount.
The appliances with delivery and extended warranties cost $3,002.94. The installation of the appliances cost an additional $325.00. All in for appliances = approximately $3,330. I'm not factoring in the plumbing and electrical issues that were unique to my place that had to be dealt with to get the kitchen ready for install - I had a random old gas pipe that had to get removed and my outlets were not in the right places for this configuration. Correcting those issues cost about another $1400, putting us at $4,700.
Cabinets
I got estimates from three different companies. The first was for the entire kitchen at a gutwrenching $23,000. Considering that my original budget for the renovation of the entire house was $25,000, that was just a no-go. The next estimate was from the same company that I ultimately bought my countertops from. It was for 42" uppers without any crown moulding. I don't remember the exact quote, but I believe it was around $5,000. As I mentioned before, I decided to go with McCabinet in Largo, Florida. I loved my designer Brooke. She was really able to match my desire for high-end features like soft close hinges and drawers and a hidden trashcan while keeping things in line with my budget.
The cabinets including installation and hardware cost $6,550, putting our running total at $11,250.
Countertops
I went back and forth on the counters. I
loved
the look of marble, as seen on countless blogs and home makeover shows, but my practical side just wouldn't let me pull the trigger, especially in a house that isn't my forever home. I still wanted something with lots of white, though, which eventually led me to Brown Fantasy.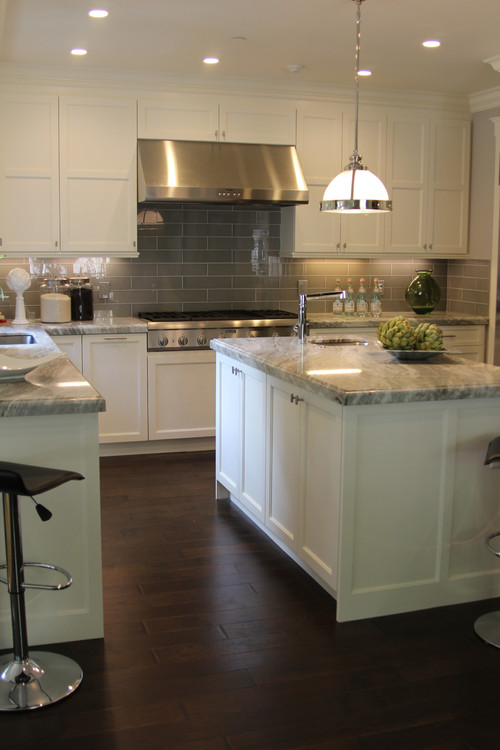 It had a lot of movement and was still pretty white. I went into the granite store (Granite Depot in St. Petersburg, Florida) and walked out to choose my slab when I saw something that stopped me in my tracks. It was labeled "Navajo White," but it's a quartzite, not the granite that pops up when you search for that name. It might be Super White Quartzite or Glacier White Quartzite, I'm really not sure.
The countertops cost around $2400 - I can't find the receipt right now and for some reason, it's not popping up on any of my credit card histories, so I'm just guessing. It was definitely under $3000. I know it was $69/square foot and I had around 34 square feet, so that match checks out, right? Hey, I'm a lawyer, not an accountant! Now we're at $13,650.
The Extras
The lighting fixture was a bargain find at
Home Depot
- a mere $80! It's by Hampton Bay and is part of the Tallarook collection. The faucet is the
Lyndhurst by Glacier Bay
. My mom wasn't keen on Glacier Bay; she wanted me to get Delta or Moen. I had my heart set on a bridge style faucet for that rustic country look, and Glacier Bay's version was $150 as compared to Moen's $1000 version. The pulls were included with the cost of my cabinets, but in case you're looking for a source, they're
Oil-rubbed Bronze by Amerock
. I think they cost around $3.00/pull, as that was my hardware allowance. I also had to pay about $300 to do some plaster repair as a result of the electrical work mentioned above.
So the grand total for my top to bottom kitchen makeover:
$
14,180. I'm not included things like paying the random Craigslist guy to tear out my old cabinets, paying the city to haul the old cabinets and countertops off, and refinishing the floors. Oh! And I had to move a ceiling vent that was in the way of my upper cabinets. So let's round up and say
$15,000
. So there you have it. From this...
To this...
For $15,000. I still plan on doing a little more work, like adding a backsplash, which will send the final bill up a little higher, but it's finally functional! Hooray!
If you have any questions, please feel free to leave me a comment and I'll try to answer them as best I can. I have a really fun post coming up about incorporating color into a neutral kitchen - white doesn't have to feel sterile - so check back soon!