Disclaimer: This post is full of fangirl gushing. There is little to nothing of substance. Read at your own risk.
Season 4 of the best show ever is back tomorrow at 8 CDT. I can hardly stand it, I'm so excited. I've been a fan of Gossip Girl for going on at least six years. I read the books in high school and thought Blair was just too cool for words. I also read a couple of the It Girl series, which focused on Jenny at boarding school. I remember when the show first came out, I had to struggle to find someone to watch it with (I'm remembering in particular my friend Katie D was an early convert). Now it seems everyone loves it, which is awesome because more fans means more viewers means higher ratings means more seasons!
The books are great, but the show is a gazillion times better. I know they've taken liberties with the characters, but it's all so very wonderful. I absolutely love the Lily-Rufus plot, and I'm not-so-secretly disappointed that the Valley Girls spinoff didn't happen. I mean, the 1980s + Gossip Girl = PURE HEAVEN FOR ME.
I most relate to Blair and again, I not-so-secretly would jump Chuck's bones if given the chance. I mean, Serena and Nate and Dan and Jenny are great and all, but I would just eat up The Blair and Chuck show. Of course, I have to give props to Blake Lively for having a precious red poodle mix: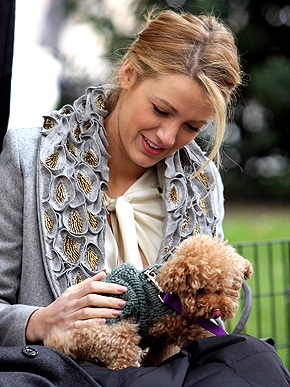 Everyone knows red poodles (even mixes) are the bestest.
In an hour or so, after I get dressed, I'm going to head to Best Buy to pick up Season 3. For some unknown reason, I got busy mid-season and am tragically behind. Thankfully, Mondays are not busy, so I can go on a Gossip Girl watching marathon to catch up. I mean, I know what's happened, but I want the full story.
Some favorite quotes from Season 2
Blair: "I turned over a new leaf. A new, non-meddlingly leaf from the trust tree."
If you're not planning to tune in, just check out the promo video. I'm sure it will change your mind:
In case you were wondering, the song on the promo is by Eileen and is a 1960s French cover of Nancy Sinatra's These Boots Are Made For Walking. It's called "Ces bottes sont fait pour marcher" and is available on iTunes. And yes, it has totally been on repeat on my iPhone for about three weeks now.