I had to check to make sure I hadn't already used this post's title, but this Friday...wow! We were so incredibly busy and got SOOOO much done with the house. Since the majority of the renovations will be taking place in the next few weeks while I'm away finishing up college (yay!), my mom and I needed to finalize our choices for the fixtures, colors, granite, etc. Just so we're both on the same page.
First, we got up and went to look at faucets for the kitchen and bath. It was full of really beautiful things, but they were the top of the line fixtures. Great if you're renovating or restoring a gigantic, turn-of-the-century mansion. Not the best for my cute little bungalow. So we decided to scamper down the street to look at tiles for the bathroom. As I've mentioned earlier, I want 1 inch hexagonal tiles in black and white in a flower pattern.
At the first tile store, we were helped by this adorable woman who looked JUST LIKE a brunette Amy Adams. My mom even accidentally called her Amy (her name was Amanda). She helped me pick out the tiles I wanted and decide on glossy or matte; I went with glossy. We also picked out some nice subway tiles, also in glossy, and a black 1/2 inch mini round decorative tile, just to tie the floors in with the shower surround and tile half way up the wall.
After that, we drove over to Lowe's and Home Depot. At Lowe's, I showed my mom the light fixtures I purchased for the hallway.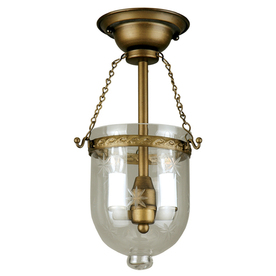 I plan on painting them white; I really love the little star etchings on the glass. Very whimsical! I think they'll be really pretty once they've been painted. And you can't be $39.00 per fixture.
We also considered buying a new Schlage deadbolt for the front door, but we decided to put it off until a bit later. But we do plan on updating it, just for safety's sake!
After Lowe's, we ran across the street to Home Depot, where, although we didn't purchase anything, we found ALL sorts of stuff. We picked out these faucets for the bathrooms. They're from the Lindley collection by Moen and are a very reasonable $99 a piece.
We also plan on getting the matching shower set for both the bathrooms (Moen, Lindley collection - $178).
Since I also need a new pedestal sink in the front bathroom, I decided to go with this very pretty sink from Kohler. It's called the Devonshire, and with both the pedestal and the basin, it costs $200. I really love the graceful lines and I think it will look really pretty with the faucet.
After Home Depot, Mom and I were hungry, so we darted into Wendy's for a snackeroo and then headed downtown to find the granite story recommended to us by the contractor we met with, to look for countertops.
I have a problem, you see. I am absolutely, positively obsessed with the idea of Carrara marble. I love the clean white look and the lovely grey veins. Unfortunately, as many of you probably know, marble simply isn't a practical choice for a kitchen given its tendency to stain very easily and the need for nearly constant resealing. I actually found a really great discussion on Carrara marble for the kitchen and bath, really just its use in general in the home. Read it
here
.
Given my complete adoration of Carrara marble, I have been beyond picky when it came to countertops. I have nearly cried twice over them, once inside Home Depot and again just outside of a marble fabricator. I just haven't been able to find a granite that makes my heart sing. Which, I know, may be asking a bit much from countertops, but still.
Our first stop while looking for the fabricator recommended to us, had nothing. So we left and I almost cried, but we finally found the place we were actually looking for. We were helped by a super nice woman named Lauren and I finally selected a granite I think I can live with. It's called Giallo Suave and it looks like this:
This is a picture of Giallo Ornamental, but the slab that I was looking at is almost identical to Giallo Ornamental, it just has a line of dark granite down one side. Lauren seemed confident, however, that she could tell the installers to avoid the line/make it less obvious. Plus, they are only going to charge us for the granite we use, rather than needing to buy the entire slab. So it works out to about $55/square foot installed, which is
very
reasonable! We also chose some coordinating travertine flooring.
We were hitting the home stretch as this point; we only had one more stop to make and that was this door and wood specialty shop. The contractor suggested we check them out for new glass doorknobs for the bedrooms, since the house originally had glass doorknobs that my mom took off when it became rental property. We still have the original knobs, but because they are so old, they don't work really well. Moreover, since we're adding two more doors, we don't have enough. The specialty shop had some really pretty knobs that actually looked really similar to my knobs:
They're called the Astoria knobs and I think I like the Satin Nickel rosette, as my mom says that's what the original knobs had. At about $80 a knob, however, they're not cheap! But they'll last and I really want to bring back some of the old school charm of the house, just with modern conveniences!
I was completely exhausted after today, but I had so much fun shopping with my mom and really making some decisions. After so many months of talking and planning, it's really starting to feel like all this might actually happen!